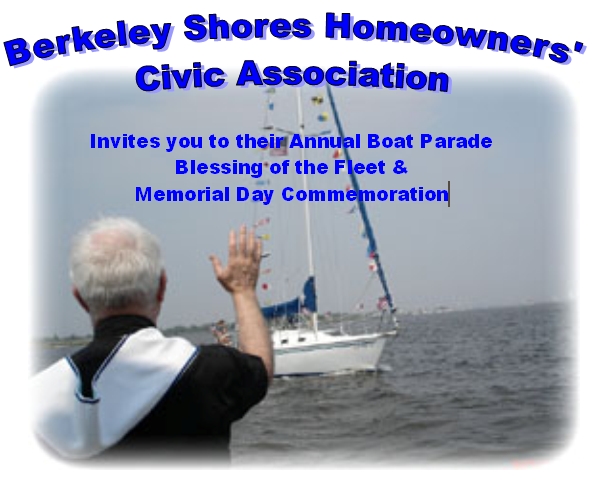 Sunday, May 29, 2016 @ 12:00
Main Lagoon of Berkeley Shores

photos courtesy of Bob and Kathi Nunn
There are so many to thank for the day!
On the water our ceremonial and assembly boats Ohana, My Irene, Kon-Tiki, Guillotine, Sushi Hunter and their Captains, John DiStefano, Jim Benn, Larry Borio, Bill McGrath and Bob Nunn. Blessing prayer, Invocation and Benediction by Father Stas from St Barnabas Parish. Heartfelt speeches by Mayor Carmen Amato, Council President John Bacchione and 1st Ward Councilman, James Byrnes, who also laid the ceremonial wreath upon the waters. Our Central Regional Jr ROTC Color Guard and Col. Mike Tiel. Our trumpeters, Kelly Hartmann and brother, Bill Haughwout. And to all participating boats with their captains and guests.
On shore our picnic committee chaired so excellently by Jerry and JoAnn Coppola with their volunteer crew of head chef Tony Mrofsky and his cooks, John Schnitzer, Dick Andrews, Rich Pachuki, Cole Starzman and Jim Blavat. To Phil and Stephanie Antoine and Chuck Crunkleton. To our DJ, Dick Italiano and his special singing guest, Al Semento. To John Schnitzers' son, Jeffrey, for the extra condiments. To Mary Lou Andrews and Jean Pachuki for attending to our membership table. A special thank you to Bob Palma for his truck, transporting our tables and equipment and to Councilman Jim Byrnes for the use of his freezer, storing our hamburgers and hot dogs.
Our thanks to Mayor Amato and Public Works Director, Steve Seiler for early removal of silt from our main Amherst lagoon prior to scheduled dredging on June 6. And to the Recreation Departments' Tim Yurcisin and Jim Sperber and their crew for their attention to our beach needs.

And a thank you to Richards Rental for accommodating our special tent delivery times.
Yesterdays' celebration is the largest event held by BSHCA during the year. A great deal of planning and coordination is required to make it a successful day. It would not be possible to hold such an event without our strong volunteer force for which I am very grateful. An event, such as we held on Sunday, May 29 proves beyond a doubt that the "boss" is only as good as his/her support people.
Thank you BSHCA Executive Board. Thank you to our member and non-member volunteers.
And thank you BSHCA members, your families, friends and guests for your support of our military. Without them, we would not have the privilege and freedom to enjoy a Memorial Day Celebration such as we held on Sunday.
Monitor VHF Channel 69 for official parade instructions on the day of the parade.